10 Most Common Surgeries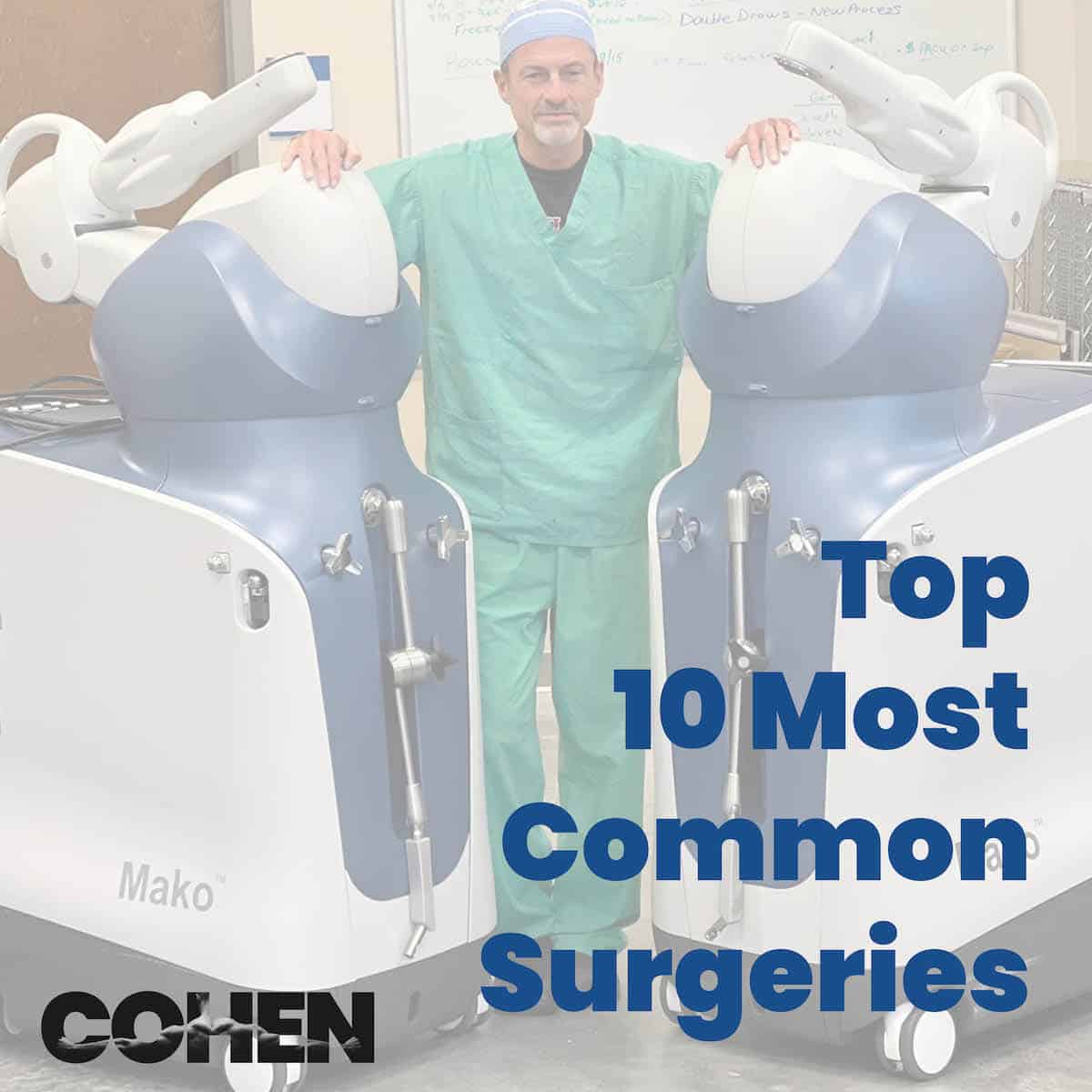 Did you know that joint replacement is among the list of top 10 most common surgeries? Including hip, knee, and shoulder replacement. All of which, Dr. Brian Cohen performs each week. More than one million Americans have joint replacement surgery each year.
During a joint replacement, the damaged cartilage and bone is removed from the joint and replaced with prosthetic components made of metal, plastic, or ceramic. The prosthesis mimics the shape and movement of a natural joint. On average, Dr. Cohen performs approximately 10 to 15 hip, knee, and shoulder replacements per week.
Joint replacements typically last around 15 to 20 years depending on a multitude of factors, but "respecting" your replaced joint is key to avoiding early revision surgery.
To avoid joint replacement here are a few things you can do:
Stay at a healthy weight

Strengthen your muscles

Eat healthy – nuts, cheese and milk are all great for your bone health!
The decision to get a joint replacement is hard for most. It is a major surgery that can significantly improve the quality of your life. However, there are risks. Here are a few:
Wound infection

Infection around the prosthesis

Blood clotting

Malfunction of the prosthesis

Nerve injury
People have surgery for many reasons, but all surgeries come with risks. Sometimes it's to ease pain, treat a disease or help the body work better. Here are the remaining 9 most common surgeries:
Cataract removal

C-section

Circumcision

Broken bone repair

Angioplasty

Stent procedure

Hysterectomy

Gallbladder removal

Heart bypass surgery
You're not alone if you are struggling with making the decision to have a joint replacement. Cohen Orthopedic highly recommends the person getting the surgery to be 100% ready because in our hands, surgery is the easy part. Although we provide recommendations, support, and tips, it's up to the patient to complete the rehabilitation.
If you think joint replacement is a part of your journey in 2023, call 614-788-0375 to schedule a consultation.