Grown Up Arthrex
Years ago, I wrote a story about "Growing up Arthrex".
It had to be around 2010ish, 10 years out of fellowship, and it was about my experience of partnering with a company from the beginning of my career that had a very simplistic, but far from simple Mission Statement, "Helping Surgeons Treat Their Patients Better."  A personal goal that all of us approach each of our patients with on a daily basis.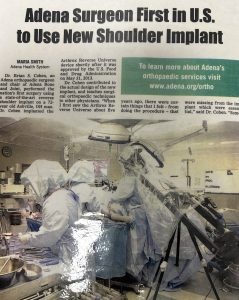 Fast forward, and it is now 2023, and I have no clue where the last 10 years of my career have gone.  But 10 years ago, I do remember being the center of the Arthrex World for one day, June 13, 2013.  OR #1 in Chillicothe, Ohio.
I had been fortunate to have had an amazing shoulder experience working with my mentor and good friend Dr. Anthony Romeo, "The Professor", during my Sports Fellowship at Rush in Chicago (1999-2000).
My work with The Professor, exposed me to many opportunities, for this story, specifically, a trip to Munich Germany in July 2012.
By this point in my career, I had had a full exposure to Reverse Shoulder Replacement, with over 1000 cases in my surgical log, and The Cohen Reamers highlighting one of my contributions to improving the surgical technique.
The Munich trip was a pivotal moment in my orthopedic career, and one that I am very thankful I made.  It was my first introduction to the Arthrex Revers Total Shoulder System, and to say it was "love at first sight" would be an understatement.
The truly amazing thing about the last 10 years, is how the Arthrex Revers Total Shoulder has "Grown up Arthrex" with me, to help "Treat" our compromised shoulder patients "Better."
The system we use today has "reflections" of what it was in 2013, but it has evolved with our knowledge of an "evolving" pathology.
"Out of the Gate," the Arthrex Revers System was a "trail blazer."  It utilized a convertible baseplate, offered multiple humeral neck angles (135 and 155 degree) in one system, utilized a press-fit humeral component, and had a "mid-sized glenosphere (39).  All novel at the time.
Change is good, but Change is also slow, or can be.
This Story would be incomplete without acknowledging our heroes.  Reinhold, is the true hero in this story, but even he will attest that the Team is what gets "shit" done.
He takes those "leaps" that many only dream of, plus he assembles a team of engineers and product specialists that he has faith in and trust to "advance the ball."
It is the Shoulder Design Team Members that push the engineers and product specialists to take our ideas, and there are many and usually very different, and make a thought or idea into a workable product.
Having great "stuff" is "cool", but proving its success is critical for long term sustainability.  The Shoulder Arthroplasty Research Committee (ShARC), has the responsibility to investigate the successes and the nonsuccesses, fortunately "nonsuccesses" are few and far between.
So, what does the growth of the Arthrex Revers Shoulder System look like over the last 10 years.
On the Humeral side, the biggest change has been from the standard or "long" stem to the Apex or "short" stem.  The new and improved "suture cup" allows for the use of more fixation points for tuberosity repair during fracture treatment, and still allows both the 135 degree and 155 degree angles to be used.  A smaller, monoblock size 4 stem is also available for the smaller patients, with a 33-suture cup.
The glenoid side has undergone a complete "make-over", the major change is from a convertible baseplate to a dedicated reverse baseplate.
The Modular Base Plate comes in a 24 and a 28mm diameter, you can utilize an initial central screw or post fixation design, there is a 0, +2, +4 lateral offset, there 4.5mm compression screws or 5.0 locking screws.  The baseplate and post are coated with Biosync for improved boney growth fixation.
Recently, the baseplate "cache" has expanded to include augmented components of varying "angles and sizes", to help match the patients pathoanatomy.
The baseplates "marry" with a 33, 36, 39, 42, 45 Glenosphere, that can be 0 or +4 offset, and can be asymmetric in diameter, and Titanium for metal allergic patients.  The spheres can match up with a standard or constrained liner, or even a combo liner.
I guess the moral of the story is when you "Grow up Arthrex", it is best to hold on tight with both hands.
June 13, 2013, I performed the first Arthrex Revers Total Shoulder Replacement in the United States.  This surgery was "a live international simulcast to Germany and sites across the United States."
It was my honor and my pleasure to represent a company that had been by my side for the first 13 years of my career, and the last 10.
I will always be grateful for earning the trust of another one of my friends and mentors, Reinhold Schmieding.
"Dad gave me the keys to the car, and I brought her home without a scratch."
Cohen Orthopedic Purchases Land for Development of State-of-the-Art Healthcare Facility, Sporting Complex and More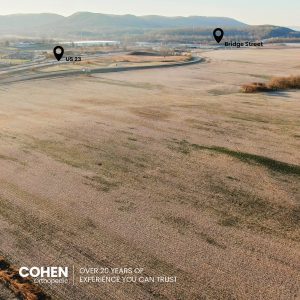 For over 100 years, the city of Chillicothe has had essentially only one healthcare option. Starting in 2024, the community will have multiple choices for various services including urgent care, primary care, orthopedics, cardiology and vascular surgery, general surgery and more. This additional choice is proudly represented by CohenOrthopedic, LLC, the Great Seal Medical Group, LLC, and ValueHealth.
"I look at the land and the components that will make up the development as the finale of my career of giving back," said Dr. Brian Cohen. As of today, the 47 acres off River Road in Chillicothe, Ohio is owned by CohenOrthopedic, LLC and will be used to develop a healthcare facility prided on patient and employee safety and experience.
Ross County's Auditor, Jeff Lehner voiced, "Many thanks to Dr. Cohen and his team for this incredible investment in Ross County's future. I'm excited to see what the future holds in store for our communities as a result of this impressive undertaking. Here's to many great successes in the years ahead!"
The Great Seal Medical Group
As previously announced by ValueHealth in 2022, the Great Seal Medical Group is an independent physician group that is currently made up of several doctors that have devoted over 100+ years of healthcare to the community. The group was founded by several independent physicians that are focused on creating access, ensuring safety, and maximizing the patient experience for the highest quality outcomes. With the objective to expand, current physicians include, Dr. Troy Thompson, Dr. Bill Sever, Dr. Jason Foster, Dr. Brian Cohen, Dr. Casey Chamberlain, Dr. Eric Liu, Dr. Mark Malinowski, and Dr. Raul Raudales.
According to Dr. Sever, "The project is the result of intense work over the last several months which will house multi-specialty physicians. Specifically, we have a vision for a patient first mentality with same day or next day access to our providers." Today's healthcare landscape is ever evolving, and the independent, private group will be able to make quick decisions when the environment calls for a change. "Ultimately, the patient will always be at the forefront of our decisions," added Dr. Sever.
Dr. Sever is a Chillicothe-area native and one of the nation's top robotic surgeons. He has over 15 years of experience and his skill set is one of several factors that will separate the facility from others. He is a local, family guy, always looking to give back to the place he calls home. Dr. Sever completed his medical school at the Ohio University Heritage College of Osteopathic Medicine and his residency at St. Elizabeth Youngstown Hospital in General Surgery.
CohenOrthopedic, LLC and Dr. Brian Cohen
Dr. Cohen moved to Ross County in August of 2000. "I was an outsider that was adopted by the community, I grew up professionally here, never forgot the kindness that was given. I dedicated 20+ years to try and develop and deliver high quality patient focused musculoskeletal care, while giving back to the community, system and staff that supported me," stated Dr. Cohen. While he is best known for his skill in the operating room, elsewhere, many of his actions have been anonymous. From supporting staff through hardship, caring for his patients outside of the hospital setting, contributing to county fairs, community events and sports programs within multiple regions to supporting initiatives such as the Tristan Miller Music scholarship and the Majestic Theatre. None of which have been intentions of personal gain, but examples of the compassion, selflessness and devotion to the patients and members of this community. Recently, he's been seeing patients in Chillicothe, Columbus, and Grove City but is looking forward to calling the land "home".
The Land
For now, it's 47 acres but soon it will be known as so much more than that. What now is just a field will be known as a destination, state-of-the-art healthcare center surrounded by auxiliary fields, a community center, hotel, restaurant, event center and possibly a multi-purpose facility for a 30-year mainstay of Chillicothe, The Chillicothe Paints.
"The possibility for Chillicothe and our surrounding communities to utilize these types of facilities has been a vision for the Paints for over 20 years," stated Chillicothe Paints President, Bryan Wickline. "By combining this complex with the VA Stadium, we immediately become a mecca for multiple sports tournaments in southern Ohio," Wickline added.
The land is located off River Road in Chillicothe, Ohio, also located in Green Township and outside of city limits; therefore, the team has done their due diligence for the infrastructure requirements. "I'm hopeful the land and project will bring additional jobs, recreation and will help enhance the quality of life as well as give economic opportunity and development to Chillicothe and the surrounding areas," stated Chillicothe's Mayor, Luke Feeney.
"The Ross County Commissioners take great pride in our county and are always glad to see new businesses and corporations move to our area. We wish you luck and much success," stated Dwight Garrett, Ross County Commissioner.
From here, the land will be developed by Wellogy Design (www.wellogydesign.com), a company known for its architecture and design for healthcare organizations. Wellogy prides themselves on designing environments that encourage wellness, infuse sustainability, and spark joy.  While the development is still in the planning stages, there are some pieces that are set in stone.
The healthcare facility will have two main components. The ambulatory surgery center and a medical office building. The medical office building will house a multi-specialty clinic, urgent care, imaging center, physical therapy office, and a primary care clinic.
"The new surgery center will raise the bar for patient-centered healthcare in the community and across the region," stated ValueHealth President and CEO Don Bisbee. "Together with the Great Seal Medical Group and Cohen Orthopedic, we are introducing a new level of patient experience, cost reduction and clinical innovation with the Muve Orthopedics program to deliver on the promise of value-based care."
Next steps for the project include groundbreaking and finalizing the development plan. The team will host a public groundbreaking this spring.
Frequently Asked Questions 
Dr. Brian Cohen thanks residents of Ross County and Southern Ohio for the incredible amount of well wishes and support over the last week.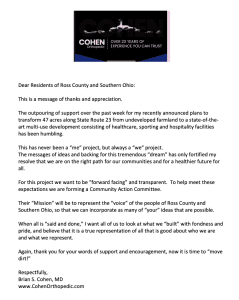 Click on the links to view various articles highlighting Dr. Cohen in the media.