Knee Ligament Reconstruction in Chillicothe, OH
Four main ligaments within the knee connect the femur to the tibia. These are the medial collateral (MCL), lateral collateral (LCL), anterior cruciate (ACL) and posterior cruciate (PCL) ligaments. Your collateral ligaments are on the sides of your knee. They control sideways motion and brace your knee against unusual movement. Your cruciate ligaments are inside your knee. They control the back and forth motion of your knee.
Knee ligament sprains and tears are a common sports injury. Ligament tears can also be caused by traumatic incidents such as motor vehicle accidents. When ligaments are damaged, the knee joint may become unstable. Movement becomes restricted and there is sometimes a loss of the ability to pivot, turn, or twist the leg.
When is Knee Ligament Repair Recommended?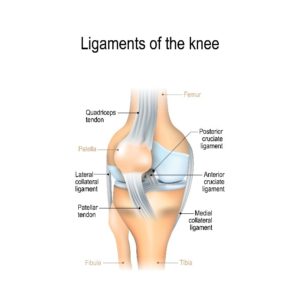 Some patients may choose to treat their ligament tears through nonsurgical treatment. This would include rest, elevation, ice pack application, compression, pain relievers, progressive physical therapy and rehabilitation, and use of a knee brace.
Surgical treatment is usually advised when a patient is experiencing:
Severe pain that interferes with everyday activities
Inability to return to sports or other activities
Multiple torn ligaments
A torn meniscus
Why Choose Dr. Cohen?
OVER 20 YEARS EXPERIENCE
One of the first orthopedic surgeons employed by a large hospital. Dr. Cohen spent 20 years.
TRUSTED BY OVER 100,000+ PATIENTS WORLDWIDE
Over his distinguished career, Dr. Cohen has cultivated a reputation of excellence and trust among his patients and his peers.
UTILIZING THE LATEST TECHNOLOGY
To achieve the best surgical outcomes, Dr. Cohen utilizes the most advanced technologies and techniques, keeping his practice state of the art.
PATIENT SAFETY IS TOP PRIORITY
An individualized, patient-focused process coupled with decades of training and experience help ensure maximum safety for all of Dr. Cohen's patients.
Types of Knee Ligament Reconstruction
When significantly torn and treated early, the MCL and the LCL may be amenable to a primary repair, or reattaching the native ligament to the bone.  In chronic LCL or MCL tears as well as acute or chronic ACL and PCL tears, the ligaments are not usually sewn back together, because repaired ligaments under these circumstances have been shown to fail over time. Instead, torn ligaments are generally replaced with a substitute graft made out of tendon. A ligament can be constructed from:
Patellar tendon autograft (from the patient)
Hamstring tendon autograft
Quadriceps tendon autograft
Patellar tendon allograft (from a cadaver)
Achilles tendon allograft
Semitendinosus allograft
Posterior tibialis tendon allograft
Ligament reconstruction surgery is typically done with arthroscopic assistance (a minimally invasive surgery).
Potential Knee Ligament Repair Complications/ Risks
Even very safe procedures have potential for risks and complications. Possible complications following ligament reconstruction include continued knee laxity or stiffness, continued pain or dysfunction, infection, viral transmission, bleeding and blood clots. Each patient should discuss their individual risk profile with Dr. Cohen prior to surgery.
Dr. Cohen and his team are careful to monitor a patient's health and activity levels both before and after the surgery to reduce risk of complications. Dr. Cohen utilizes the latest in technology to do this. He has partnered with Prescribe FIT to optimize his patients preoperatively and empower his patients with a simple and effective way to lower their risk of complications from surgery. In addition, he utilizes the Recupe sensor from Plethy to monitor compliance with home exercise programs and range of motion recovery.
Knee Ligament Reconstruction Results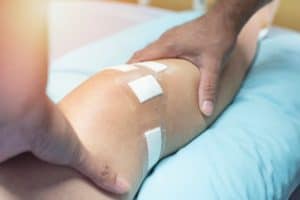 Most patients are able to go home the day of their ligament reconstruction surgery. Patients often have to wear a knee brace and use crutches for a few days to a few weeks depending on the surgical procedure performed.
Physical therapy is an important part of a successful ligament reconstruction surgery. Therapy helps patients regain strength and range of motion in their knee. Ligament reconstruction surgery has a high success rate, with many athletes eventually able to return to their pre-injury activity level.
Schedule Your Knee Consultation Today
If you have a torn ligament, you may be a candidate for ligament reconstruction surgery. To learn more, schedule a personal consultation with Dr. Brian Cohen, who has treated over 100,000 patients worldwide and has extensive experience with ligament reconstruction and minimally invasive surgery. Call or email his office today.