Knee Cartilage Transplant Procedures in Chillicothe, OH
Cartilage is the smooth, white tissue that covers the ends of bones where they meet to form joints. It helps a joint to move smoothly and acts as a cushion between bones.
Cartilage can be damaged through injury or through normal wear and tear. Injured cartilage does not typically heal on its own, so doctors have developed procedures that attempt to repair, regenerate and replace cartilage tissue.
When is a Knee Cartilage Transplant Procedure Recommended?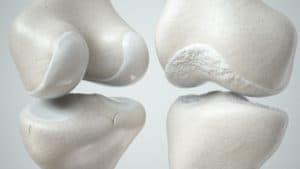 A cartilage transplant procedure is generally recommended for younger, active patients with a single injury. This procedure is considered a good option to delay the onset of arthritis or delay or prevent the need for a total knee replacement.
Factors that could prevent a successful cartilage transplant procedure include:
The patient is overweight
Malalignment of the bones
Genetically determined weakness in the cartilage tissue
Missing or severely damaged meniscus
The damaged part of the cartilage is too large
Associated ligament injuries
Dr. Cohen will discuss your options and risk factors with you and recommend the best procedure for you based upon your individual situation.
Types of Cartilage Transplant Procedures
There are a few different types of cartilage transplant procedures:
Osteochondral autograft transplantation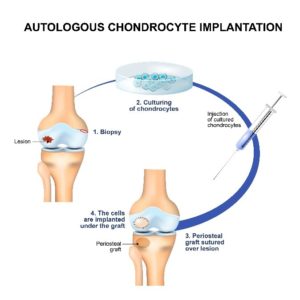 Cartilage from one part of the joint is transferred to another. A graft of healthy cartilage and bone tissue from an area of the bone that does not carry weight is removed and used to fill in the area where the cartilage is damaged. Osteochondral autografts are generally used for smaller areas of damaged cartilage and can be done arthroscopically.
Osteochondral allograft transplantation
Donor cartilage from a cadaver is used to replace the damaged cartilage. Osteochondral allografts are typically larger than autografts and are done through open surgery.
Autologous chondrocyte implantation
In this two-part procedure, healthy cartilage tissue is removed from a non-weight-bearing area of the bone arthroscopically. The healthy cartilage cells are then sent to a laboratory where they are grown. Three to five weeks later, the new cells are transplanted into the damaged joint during an open surgery.
Knee Cartilage Transplant Potential Complications
Even very safe procedures have potential for risks and complications. Possible complications following a cartilage transplant procedure include overgrowth of the cartilage graft, failure of the graft to fuse adequately with healthy cartilage, insufficient amount of cartilage regeneration or a tearing of the cartilage near the repair site. Each patient should discuss their individual risk profile with Dr. Cohen prior to surgery.
Dr. Cohen and his team are careful to monitor a patient's health and activity levels both before and after the surgery to reduce the risk of complications. Dr. Cohen utilizes the latest in technology to do this. He has partnered with Prescribe FIT to optimize his patients preoperatively and empower his patients with a simple and effective way to lower their risk of complications from surgery. In addition, he utilizes the Recupe sensor from Plethy to monitor compliance with home exercise programs and range of motion recovery.
Why Choose Dr. Cohen?
OVER 20 YEARS EXPERIENCE
One of the first orthopedic surgeons employed by a large hospital. Dr. Cohen spent 20 years.
TRUSTED BY OVER 100,000+ PATIENTS WORLDWIDE
Over his distinguished career, Dr. Cohen has cultivated a reputation of excellence and trust among his patients and his peers.
UTILIZING THE LATEST TECHNOLOGY
To achieve the best surgical outcomes, Dr. Cohen utilizes the most advanced technologies and techniques, keeping his practice state of the art.
PATIENT SAFETY IS TOP PRIORITY
An individualized, patient-focused process coupled with decades of training and experience help ensure maximum safety for all of Dr. Cohen's patients.
Surgery Results
After a cartilage transplant procedure, the focus is on rest, ice to control swelling, elevation of the knee, protecting the incision from infection and pain relief. Patients often have to wear a knee brace and use crutches for a few weeks.
Most patients are able to return to some physical activity in six to eight weeks, but full recovery can take three to six months. Studies have shown that cartilage transplant procedures are successful in about 80 percent of cases.
Schedule Your Consultation Today
If you have knee arthritis or knee cartilage damage, you may be a candidate for a cartilage transplant procedure. To learn more, schedule a personal consultation with Dr. Brian Cohen, who has treated over 100,000 patients worldwide and has extensive experience with cartilage transplant procedures. Call or email his office today.