Shoulder Fracture Treatment in Chillicothe, OH
Shoulder fractures are serious injuries that involve one or more of the three bones in the shoulder: the scapula, clavicle and humerus. The scapula is the shoulder blade, the clavicle is another term for the collarbone and the humerus is the upper arm bone. Let's take a closer look at these types of fractures as well as the common causes of and treatments for shoulder fractures.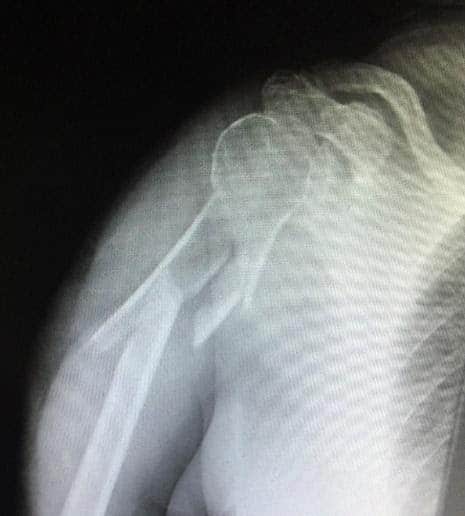 Shoulder Fracture Causes
Fractures can occur in the shoulder area for a wide range of reasons. They could be caused by a fall or a direct hit. Those who are involved in contact sports, such as football, could suffer from shoulder fractures due to hits and falls. Motor vehicle accidents are another of the common causes of shoulder fractures.
Trauma can cause the ball (humerus) and socket (glenoid) of the shoulder joint to fracture. Decreased bone strength due to osteoporosis is an additional factor that increases the risk of shoulder fractures.
Fractures to the scapula are rare, accounting for only between 3 and 5 percent of shoulder fractures. However, when they do occur they can be serious. Those who have scapula fractures may also have other injuries to the lungs, the ribs or the nerves.
Shoulder Fracture Symptoms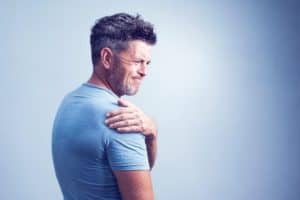 The main symptoms of fractures to the shoulder include:
There may be a deformity found at the site of the fracture, and parts of the upper arm and shoulder may be discolored. Patients will also find it difficult to move the arm without pain. With time the swelling and discoloration may migrate down the arm into the wrist and finger.
After a traumatic event, or as the result of no obvious event, if these symptoms are present, it is important to contact Dr. Cohen's office immediately. If there is the concern for an associated medical emergency, go to your local emergency room or call 911.  If it is determined that you have sustained a shoulder fracture, Dr. Cohen and a member of his team may be called in to assess the fracture and outline an appropriate treatment plan.
Why Choose Dr. Cohen?
OVER 20 YEARS EXPERIENCE
One of the first orthopedic surgeons employed by a large hospital. Dr. Cohen spent 20 years.
TRUSTED BY OVER 100,000+ PATIENTS WORLDWIDE
Over his distinguished career, Dr. Cohen has cultivated a reputation of excellence and trust among his patients and his peers.
UTILIZING THE LATEST TECHNOLOGY
To achieve the best surgical outcomes, Dr. Cohen utilizes the most advanced technologies and techniques, keeping his practice state of the art.
PATIENT SAFETY IS TOP PRIORITY
An individualized, patient-focused process coupled with decades of training and experience help ensure maximum safety for all of Dr. Cohen's patients.
Surgery for Shoulder Fractures
In some cases, fractures can be treated without surgery. Other times, surgery and specialized treatments are the better choices to help ensure proper healing.
Open Reduction and Internal Fixation for Shoulder Fractures
While many proximal humerus fractures can be treated with a supportive sling if they are not displaced, larger and more complex fractures will require surgery to align and secure the bones. Open reduction and internal fixation (ORIF) is a surgical technique that can help those who suffer from fractures to the humerus. It involves reducing the fracture and securing the bones in their proper alignment, so the patient can then heal. This can be accomplished with a plate and screw or with an intramedullary fixation device with locking screws.
Total Shoulder Replacement
Also called total shoulder arthroplasty, this procedure includes the removal of part of the shoulder joint. The part that is removed will be replaced with artificial components that match the shoulder's natural anatomy. A plastic cup device is attached inside the shoulder socket (glenoid) and a metal ball is attached to the top of the upper arm bone (humerus). This helps to reduce the amount of pain the patient is feeling while also helping to improve range of motion and mobility. Total shoulder replacement is often used to help treat severe pain and stiffness that occurs with arthritis, but may be utilized to treat complex fracture of the proximal humerus.
Reverse Total Shoulder Replacement
This type of surgical treatment differs from total shoulder replacement according to where the components of the shoulder replacement are situated. For a reverse total shoulder replacement, the metal ball is positioned on the glenoid, where the socket used to be, and the plastic cup is on top of the proximal humerus, where the shoulder ball used to be.
The indications for treatment with a reverse total shoulder replacement are much more extensive than those for an anatomic total shoulder replacement, and performing an anatomic total shoulder replacement for the wrong indications could result in an unsuccessful outcome.
Contact Orthopedic Specialist, Dr. Brian Cohen
Of course, each patient is different and will require different treatment based on their specific conditions. When helping patients suffering from shoulder fractures, the goal is to reduce pain, heal the shoulder and restore proper function. Dr. Brian Cohen is a specialist in the field with decades of experience in orthopedics. He is a member of the American Academy of Orthopedic Surgeons and the American Orthopedic Society of Sports Medicine, and is board certified in Orthopedic Surgery.
With the right treatment performed by an experienced orthopedic surgeon, patients can recover faster with the goal to return to their previous level of function with comfort and confidence. If you have shoulder pain, whether it is a fracture or another problem, schedule a consultation with orthopedic surgeon Dr. Brian Cohen.