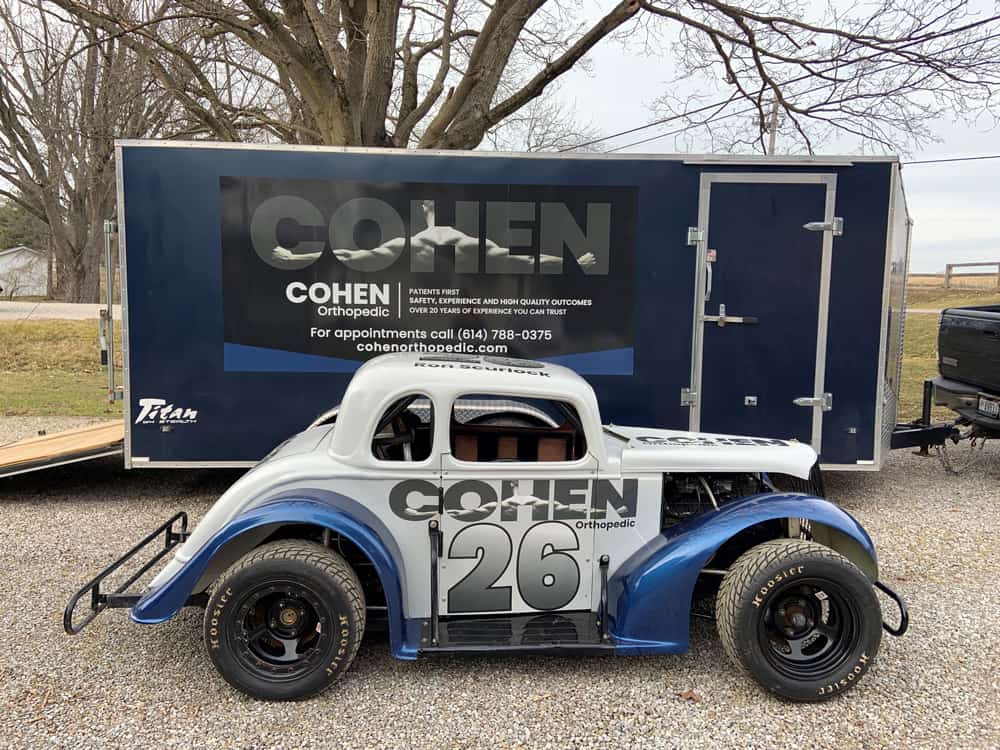 Dr. Brian Cohen and Cohen Orthopedic are proud to announce that they are sponsoring talented drivers in the local racing scene. A total of three racers features the Cohen Orthopedic logo on their Legend Cars as they speed toward victory in the Ohio Valley.
Since debuting 30 years ago, Legend Car racing has steadily gained in popularity and is considered one of the most exciting forms of racing for drivers and spectators alike. Legend Cars are fiberglass vehicles made to 5/8-scale of the well-known modifieds seen in NASCAR. They are intentionally more affordable than other types of racing vehicles to ensure that fun remains the main emphasis in these competitions. Legend Cars can reach a peak speed of 120 MPH.
Dr. Cohen was introduced to these racers through one of his nurses, Dayna Scurlock. Her husband, Ron Scurlock has been involved in racing for many years, making Legend Cars a full-fledged family hobby. Scurlock used to race a 4-cylinder Hobby Stock before joining the Ohio Valley Legend Series three years ago. He races car #26 which white and red.
Steven Partin, the owner and promoter of Brushcreek Motorsports and Ohio Valley Legend series, joined the Cohen racing team in his 15th year of racing. He was series champion in 2012 and 2020, as well as the 2020 Legend Car Dirt Track World Championship winner and second runner-up in the 2020 Semi-Pro National Dirt Championship. He drives car #21, which is gray and purple.
Nick O'Bryant started racing dirt bike at age 3 and went pro at just 15 years old. Nick raced at the GNCC Nationals, internationally for six days for USA in France and Chile. He brought home a silver and gold metal. Nick has competed all over the world. Nick's grandfather and father raced, so we would like to assume it's in his blood.  Nick is engaged to his fiancé Camryn and they share a son, Rhen.
These racers plan to travel outside of the Ohio Valley Legend Series to make appearances at events in Pennsylvania, North Carolina and the national competition in Texas. Because some of these races are televised, we are excited to see the Cohen Orthopedic name both in person at the races and on the television screen!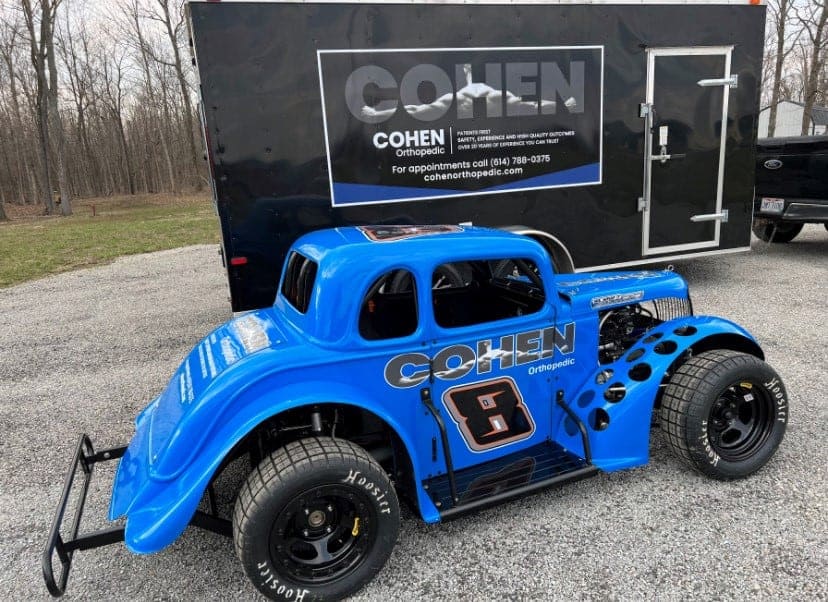 The full 2023 tour schedule, with dates spanning from March to October, is available online. Fans (new and old) can attend races at Atomic Raceway (Waverly, OH), Brushcreek Motorsports (Peebles, OH), Portsmouth Raceway, 35 Raceway (Frankfort, OH), Florence County Speedway (Florence, KY) and Tyler County Speedway (Middlebourne, WV).
We're in it to win it!