Avascular Necrosis (Osteonecrosis) Treatment in Chillicothe, OH
What is Avascular Necrosis (AVN)?
Avascular necrosis (AVN) or osteonecrosis is a condition that occurs as a result of loss of blood supply to the bone. When the blood supply is cut off, the bone tissue dies and the bone will collapse. If osteonecrosis happens near a joint, it can lead to degenerative arthritis.
Osteonecrosis most often affects the hip. It can also affect the shoulder, knees or ankles.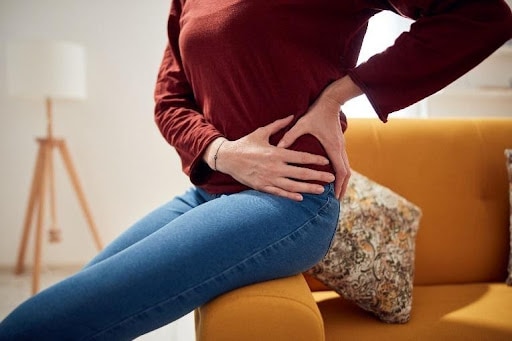 Diagnosing Osteonecrosis
Diagnosis is generally done through a physical exam, X-rays and imaging studies such as bone scans or MRIs, which can help detect the earlier stages of osteonecrosis.
There are four stages of osteonecrosis of the hip:
Stage I – The dead bone can be seen on an MRI, but not on an X-ray.
Stage II – The dead bone can be seen on an X-ray, but there has been no collapse of the femoral ball.
Stage III – Signs of femoral collapse or a crescent sign can be seen on an X-ray.
Stage IV – Full collapse of the femoral head, along with signs of cartilage damage.
Avascular Necrosis Causes and Risk Factors
There are a number of risk factors that can make someone susceptible to osteonecrosis:
Injury
Blood clots, inflammation and damage to the arteries
Steroid use
Excessive alcohol use
Obesity
Bisphosphonates
Medical conditions – Osteonecrosis is more prevalent in those with sickle cell disease, Crohn's disease, Gaucher's disease, systemic lupus erythematosus, arterial embolism, thrombosis, vasculitis, Caisson's disease, pancreatitis and other autoimmune diseases.
Osteonecrosis is most common in people between the ages of 40 and 65.
Why Choose Dr. Cohen?
OVER 20 YEARS EXPERIENCE
One of the first orthopedic surgeons employed by a large hospital. Dr. Cohen spent 20 years.
TRUSTED BY OVER 100,000+ PATIENTS WORLDWIDE
Over his distinguished career, Dr. Cohen has cultivated a reputation of excellence and trust among his patients and his peers.
UTILIZING THE LATEST TECHNOLOGY
To achieve the best surgical outcomes, Dr. Cohen utilizes the most advanced technologies and techniques, keeping his practice state of the art.
PATIENT SAFETY IS TOP PRIORITY
An individualized, patient-focused process coupled with decades of training and experience help ensure maximum safety for all of Dr. Cohen's patients.
Osteonecrosis Symptoms
Osteonecrosis develops in stages over time. Symptoms may include:
Joint pain
Limited range of motion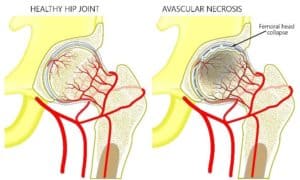 In the early stages of osteonecrosis, the patient may not have any symptoms. As the disease progresses, pain develops and worsens. Eventually, disabling osteoarthritis may develop in the affected joint.
When osteonecrosis of the hip begins, the first symptom is typically hip pain. The pain may spread to the groin or buttock area. Eventually, it may become more difficult to stand or put any weight on the affected hip.
Avascular Necrosis Treatment Options
Osteonecrosis can be treated nonsurgically through a combination of anti-inflammatory medications, osteoporosis drugs, cholesterol-lowering drugs, blood thinners, electrical stimulation, activity changes, short-term bisphosphonate treatment, physical therapy and the use of crutches. However, conservative treatment does not work well for those in more advanced stages of osteonecrosis. In these cases, surgery may be necessary. Possible surgical solutions include core decompression, osteotomy (repositioning the bone), bone grafting and total hip replacement.
Dr. Cohen will assess your individual case and advise you as to the best course of action. Factors to take into consideration include your age, your overall health, your medical history, the progression of the disease, location and amount of bone damage, cause of the disease, your response to other medicines or therapies and your personal preference.
Schedule Your Consultation
If you would like to learn more about your osteonecrosis treatment options, schedule your personal consultation with orthopedic surgeon Dr. Brian Cohen. With over 20 years of experience, Dr. Cohen is a well-trained surgeon who offers a customized approach to your orthopedic care. He has extensive experience with osteonecrosis. Call or email his office today.