Total Shoulder Replacement in Chillicothe, OH
Total shoulder replacement or total shoulder arthroplasty is a complex procedure that involves replacing the shoulder joint with an artificial implant made of metal and plastic. The goal of total shoulder replacement surgery is to reduce pain, improve motion and restore function.
When is Total Shoulder Replacement Recommended?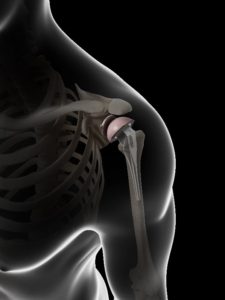 Total shoulder replacement surgery may be recommended for many different reasons. Common conditions requiring total shoulder replacement include:
Osteoarthritis, or degenerative joint disease
Rheumatoid arthritis, where the synovial membrane surrounding the joint becomes inflamed and thickened, and leads to a destruction of the shoulder joint
Irreparable rotator cuff tear
Severe shoulder injuries, such as a broken bones
Avascular necrosis, or the disruption of blood supply to the ball of the shoulder
Failed previous shoulder replacement surgery
There are other reasons a patient may have a shoulder replacement, but they are less common.
Some patients may choose to try to manage shoulder pain with conservative treatment options that can include activity modifications, nonsteroidal anti-inflammatory drugs, corticosteroid injections and/or physical therapy.
Total shoulder replacement is recommended when conservative treatments fail and a patient's daily activities are significantly impacted. People who benefit from shoulder replacement surgery often have:
Severe shoulder pain that interferes with everyday activities
Pain that may prevent a good night's sleep
Loss of motion or weakness in the shoulder that significantly impacts function
Failure to significantly improve through alternative treatment options
Total Shoulder Replacement Preparation
Dr. Cohen will provide you with comprehensive instructions for preparing for total shoulder replacement. He will determine whether you need to stay overnight in the hospital or can return home after surgery. Dr. Cohen will review your medications and advise you as to whether you need to discontinue or adjust any of them. He will go over your anesthesia options and help you decide the best choice for your circumstances.
Why Choose Dr. Cohen?
OVER 20 YEARS EXPERIENCE
One of the first orthopedic surgeons employed by a large hospital. Dr. Cohen spent 20 years.
TRUSTED BY OVER 100,000+ PATIENTS WORLDWIDE
Over his distinguished career, Dr. Cohen has cultivated a reputation of excellence and trust among his patients and his peers.
UTILIZING THE LATEST TECHNOLOGY
To achieve the best surgical outcomes, Dr. Cohen utilizes the most advanced technologies and techniques, keeping his practice state of the art.
PATIENT SAFETY IS TOP PRIORITY
An individualized, patient-focused process coupled with decades of training and experience help ensure maximum safety for all of Dr. Cohen's patients.
Types of Total Shoulder Replacement Surgery
Total shoulder replacement is performed in an operating room. There are two types of shoulder replacement surgery: traditional (anatomic) total shoulder replacement and reverse total shoulder replacement.
Anatomic Total Shoulder Replacement
In an anatomic total shoulder replacement, Dr. Cohen will separate the deltoid and pectoral muscles and detach the subscapularis, one of the front muscles of the rotator cuff, to access the shoulder joint. He will then remove the arthritic sections of the joint; insert an artificial socket, ball, and stem; close and stitch the muscle; and clean and stitch the incision.
Reverse Total Shoulder Replacement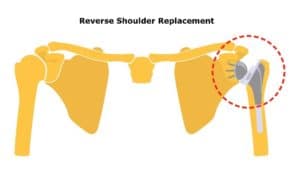 In a reverse shoulder replacement, the positions of the ball and socket are reversed. An artificial ball is placed where the patient's socket was and a socket implant is placed on the humeral head side. The reverse placement offers additional stability and does not require tendons to keep it in place. A reverse shoulder replacement surgery is commonly done for irreparable rotator cuff tears, shoulder arthritis associated with a rotator cuff tear, failed total shoulder replacement and complex shoulder fractures.
Shoulder Replacement Potential Complications
A total shoulder replacement surgery is a very safe procedure. However, even very safe procedures have the risk for potential complications. Possible complications following total shoulder replacement include infection, nerve injury, and problems with the implants that may require revision surgery. Each patient should discuss their individual risk factors with Dr. Cohen prior to surgery.
Shoulder Replacement Results
Shoulder replacement surgery is a very effective way to eliminate or significantly reduce shoulder pain and improve range or motion. The amount that range of motion can increase depends on factors such as how long the range of motion has been limited, whether the rotator cuff tendons were still intact and functional, and the patient's active participation with their post-replacement rehabilitation program. Most patients are highly satisfied with the results of their total shoulder replacement.
Schedule Your Consultation Today
If you are experiencing chronic shoulder pain and restricted movement, you may be a candidate for total shoulder replacement surgery. To learn more, schedule a personal consultation with Dr. Brian Cohen, who has treated over 100,000 patients worldwide and has performed over 3,000 total shoulder replacements. Call or email his office today.