AP Prep Athlete Austin Osborne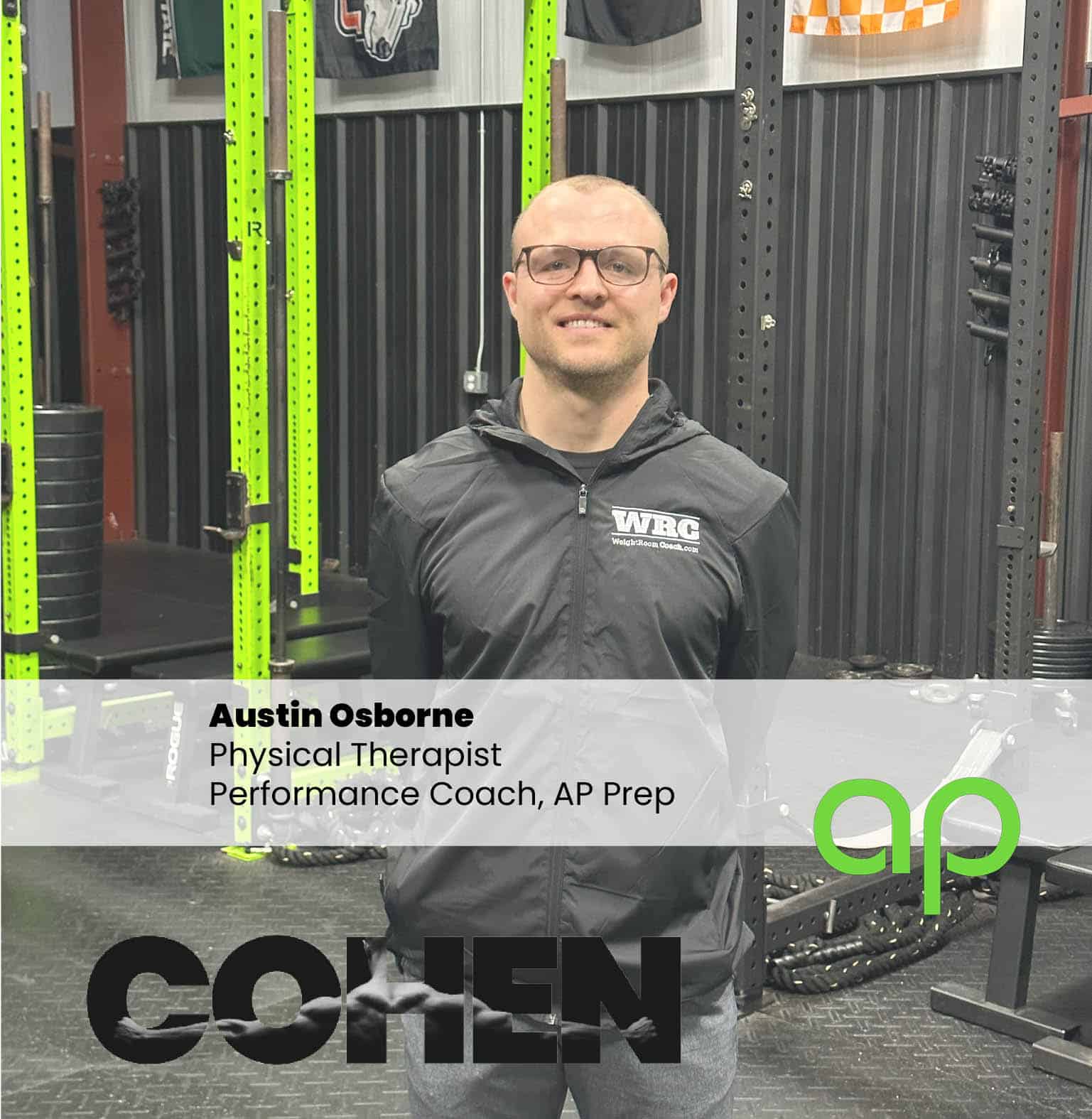 Austin wears many hats. He's someone that you're not going to have a bad day with and someone that is going to keep your workout entertaining. If you struggle with being motivated to get to the gym, work with Austin Osborne, AP Prep Performance Coach. By the end of it, he'll have you adding cold showers to your routine, and if you're anything like me, you are not taking a cold shower.
Austin is also a physical therapist. He is a fiancé', brother, uncle, son, and professional analogist. There's not much Austin can't explain with an analogy and amongst many things, that's what makes his coaching technique top-of-the-line. He completed his Exercise Science degree at Ohio Dominican and Physical Therapy graduate degree at Marshall University. After having a few experiences with physical therapy, at a young age Austin pinpointed the career as his goal.
Accomplishing his goals is something he was good at. Austin started training with Jason Prater and AP Prep when he was 14 years old. "Jason was the perfect storm for me. When I met him, my parents had recently split so he was and still is a mentor, coach, and best friend to me. I like to think he thought I would give everything I had to be successful," said Osborne. And that is just what he did.
After training and helping coach, Austin went on to attend Ohio Dominican on a football scholarship where he played linebacker and was team captain. After college, Austin picked up coaching and training again. "My coaching style is to really focus on the minutiae of things. I watch the small things because the large things will fall into place."
What is a Performance Coach? A performance coach is someone who combines change and motivation with best practices in personal and professional development. You gain clarity, mobility, and the skill it takes to reach your highest career potential. At AP Prep, the performance coaches are trained and motivated to get you where you need to be, personally and professionally.
In addition to coaching, Austin is a Physical Therapist with home health, outpatient, and skilled nursing facility experience. "I love what I do because there are so many different avenues you can venture down," stated Austin.
He had the privilege of shadowing Dr. Brian Cohen, not because he wanted to become an orthopedic surgeon but because "Dr. Cohen understands the importance of the rehabilitation process," mentioned Austin. Seeing the surgeries was a great way for Austin to improve his side of things. "Dr. Cohen is a machine, he's very efficient."
Anyone that has worked with Austin including AP Prep owner, Jason Prater, Dr. Cohen and even his family would best describe him as empathetic, loving, and unique. If you are a young aspiring athlete, high school student with a goal that seems too far to reach, "It's going to work out and you're going to be right where you want to be," said Austin.
Austin and his soon-to-be wife, Kendra recently purchased land and built a home that is surrounded by family. And, this month, they are getting married. Austin aspires to be a father one day and in his free time enjoys spending time with his dog, Benny, boxing conditioning, reading, and watching movies. After asking him if there's anything he would change, his response was "No because everything I've done and accomplished has led me to where I am today and I can't fathom being anywhere else."
If you are interested in physical therapy services with Austin, call 614-788-0375. To schedule an appointment with Dr. Cohen visit cohenorthopedic.com. To learn more about AP Prep visit apprep.info.