5 Common Orthopedic Injuries in the Summer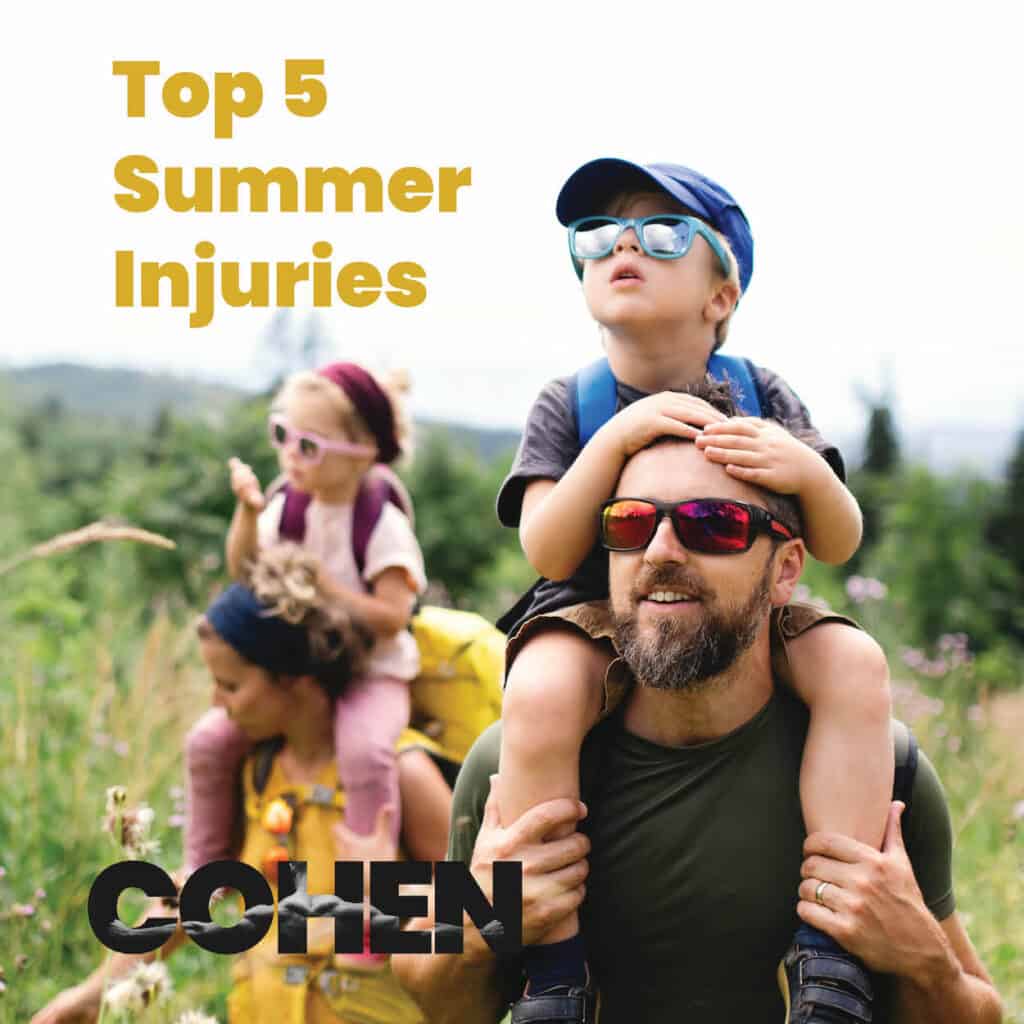 Sweet summertime brings lots of memories, some sweet and some a bit sour. Summer is the ideal season for getting outside and participating in those extracurricular activities. Unfortunately, more activity increases the risk of injury. It is critical to be informed of various orthopedic injuries you may face. Always take efforts to prevent and ensure everyone's safety. Below is a list of the top 5 orthopedic injuries endured during the summer.
Since games like football, soccer, basketball, and tennis are popular through the summer, knee injuries come in at number one. Overusing, overstretching, or hyperextending the knees can result in an injury that takes several weeks to heal. Some common knee problems include a ruptured Anterior Cruciate Ligament (ACL), a torn meniscus, dislocations, and tendonitis.

Number two are sprains. Sprains can happen with simple tasks such as walking. If you happen to step on an uneven surface, step off a curb, stairwell, or stumble – all can cause a sprain. Ligaments connect one bone to another and if overstretched or ruptured, a sprain can occur.

Contact sports such as football can cause number three, concussions. A concussion can cause permanent brain damage, but also dizziness, drowsiness, nausea, and memory loss. Always use appropriate safety equipment like a helmet to protect your head.

Strains, like sprains can occur during summer sports. If you overwork yourself or participate in a strenuous activity without first warming up or conditioning. The lower back, arms and hamstrings are the most typical areas for a strain.

Lower back discomfort is number five. Interestingly enough, back pain affects almost everyone at some point in their lives. Sometimes, the pain will fade away, and sometimes it will warrant medical treatment.
For any type of orthopedic problem, prevention is better than treatment. Read more on proper stretching at cohenorthopedic.com/blog. Additionally, the first step to addressing an orthopedic condition is to see an orthopedist.
Dr. Brian Cohen and Cohen Orthopedic sees patients in Columbus, Chillicothe and Grove City. To schedule an appointment visit cohenorthopedic.com or call 614-788-0375.