What your need to know – ACL Tear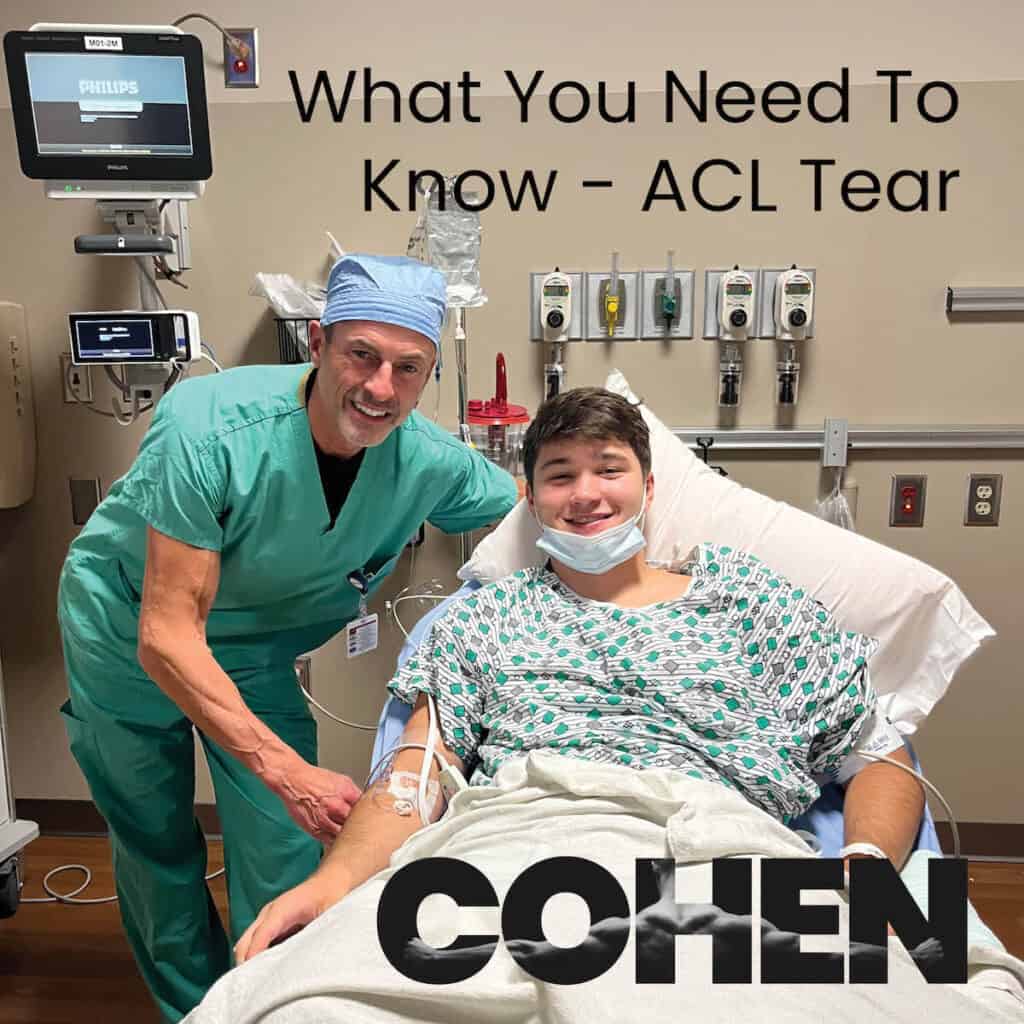 Soccer and football are among the list of sports with the highest occurrence of an anterior cruciate ligament injury, also known as an ACL tear. The ACL is tissue that connects the thigh bone to the shinbone at the knee.
Symptoms include knee swelling, instability, and pain on the outside and back of the knee. In most cases loss of full range of motion and discomfort while walking will occur. Treatment may include surgery and physical therapy. Partial tears may heal with non-surgical treatments, but complete ACL tears cannot be healed without surgery.
What kind of surgery will I need?
An arthroscopic assisted ACL reconstruction is recommended when an ACL is torn and needs to be reattached. Arthroscopic assisted procedures are generally much less invasive than open knee surgery, so risk of complications like infection and stiffness are lower. Using an arthroscope allows the surgeon to see the knee clearly through small incisions so they can make precise decisions.
Prior to surgery, an evaluation is required to determine if this procedure is right for you. If you suspect your ACL is torn, it is important that you see an orthopedic specialist because serious consequences can occur if an ACL is left untreated.
Whether it is hurt during a sporting event or a fall, it's important that you do not play sports or engage in any other high-impact physical activity until seeking an evaluation.
Surgical Advancements
At CohenOrthopedic, we pride ourselves on implementing the latest proven technologies. For ACL reconstruction, Dr. Brian Cohen, Orthopedic Surgeon has added the "fertilized ACL reconstruction" to the lineup advancements. This procedure is accomplished by adding Bone Marrow Aspirate Concentrate (BMAC) to the bone tunnels to facilitate healing of your new ACL in the femoral and tibial bone tunnels, as well as augmenting your new ACL ligament with an "internal brace". Together these two techniques have been shown in early studies to facilitate a more accelerated rehabilitation, with a lower retear rate.
Patient Experience
Eli Manion, a Paint Valley graduate experienced an ACL tear his senior year. His road to recovery was a bit curvy until Dr. Brian Cohen sent him on his way to a full recovery. Read more about Eli's story here.
In addition to ligament repair, at Cohen Orthopedic we provide care for patella tendonitis, cartilage issues, knee arthritis, and fractures. Dr. Cohen is a leading orthopedic surgeon who specializes in the treatment of knee, shoulder, and hip conditions.