Top 5 Orthopedic Emergencies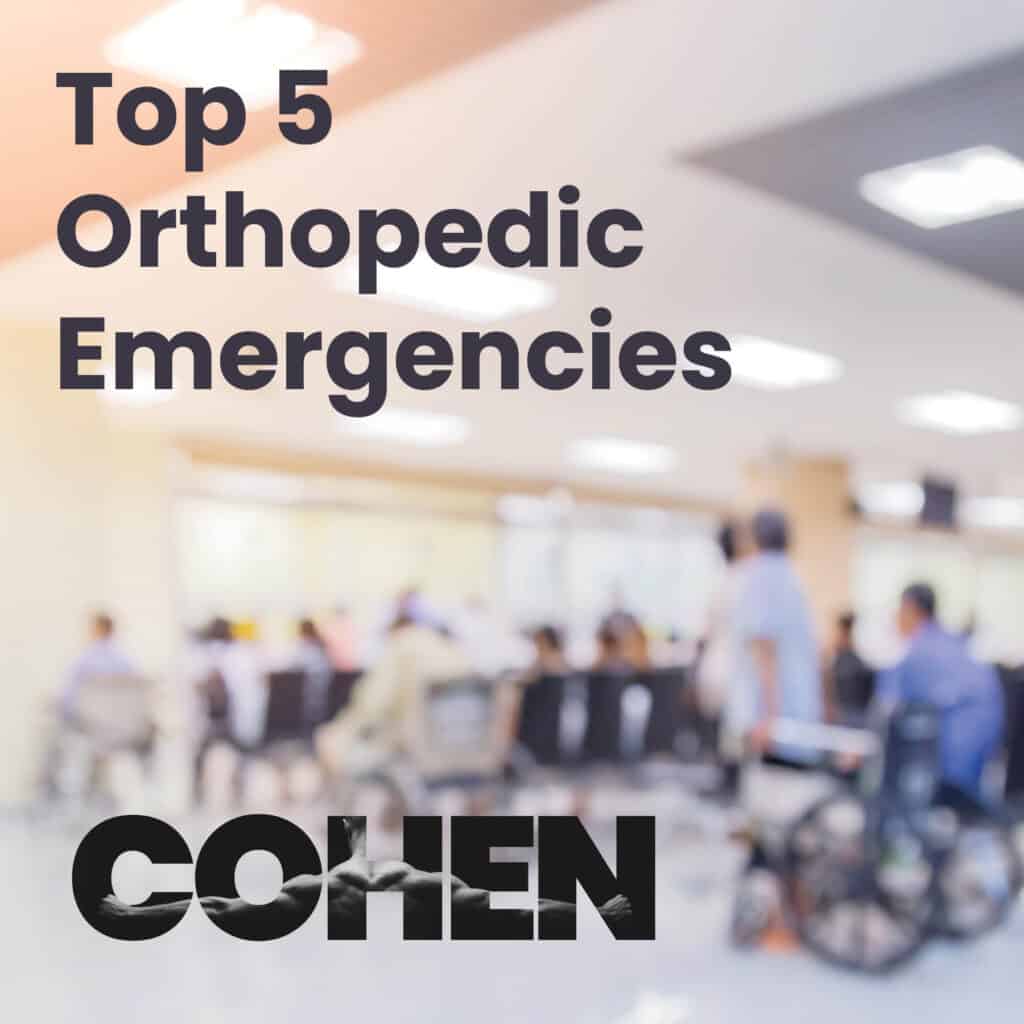 Need help determining if it's an emergency or not? Most orthopedic injuries can feel like an emergency, whether it's an injury created over time or a sudden, unexpected injury. Fortunately for our patients at Cohen Orthopedic, we treat both. In fact, recently we added the HURT! app to our list of advanced technologies.
The HURT! app allows our patients to connect with a professional orthopedic technician within minutes. You are then able to send photos of the injury and determine together if it's an emergency or next day follow-up appointment. The technician can schedule your follow-up appointment with the team at Cohen Orthopedic.
Types of injuries that we may see in a follow up appointment include sprain, strain, discoloration, painful and swollen joints, ligament tears and fractures. The top 5 orthopedic emergencies are listed out below.
Open Fractures – an injury where the fractured bone is exposed to the external environment via a traumatic incident to the skin and soft tissue. This type of traumatic injury requires emergency treatment to set the bone and prevent infection in the wound.

Hip Dislocations – Traumatic hip dislocation can be associated with acetabular fracture. Both injuries require emergency reduction of the dislocated hip. Avascular necrosis of the femoral head (AVN) is a potential complication that accompanies these severe injuries. 

Neural Compromise – a type of spinal stenosis. It occurs when the small openings between the bones in your spine, called the neural foramina, narrow or tighten. The nerve roots that exit the spinal column through the neural foramina may become compressed, leading to pain, numbness, or weakness.

Septic Arthritis – an infection in the joint fluid and tissues. Bacterial infection with Staphylococcus aureus (staph) is the most common cause and it can live on even healthy skin.

Compartment Syndrome – a painful condition that occurs when pressure within the muscles builds to dangerous levels. This pressure can decrease blood flow, which prevents nourishment and oxygen from reaching nerve and muscle cells. The "5 P's" are associated recognition of Compartment syndrome: pain, pallor, pulselessness, paresthesia, and paralysis.
Prepare for the unexpected and avoid unnecessary wait times by downloading the HURT! app at poweredbyhurt.com/cohenorthopedic. For more information or to schedule an appointment visit cohenorthopedic.com or call 614-788-0375.