Choosing the Right Physician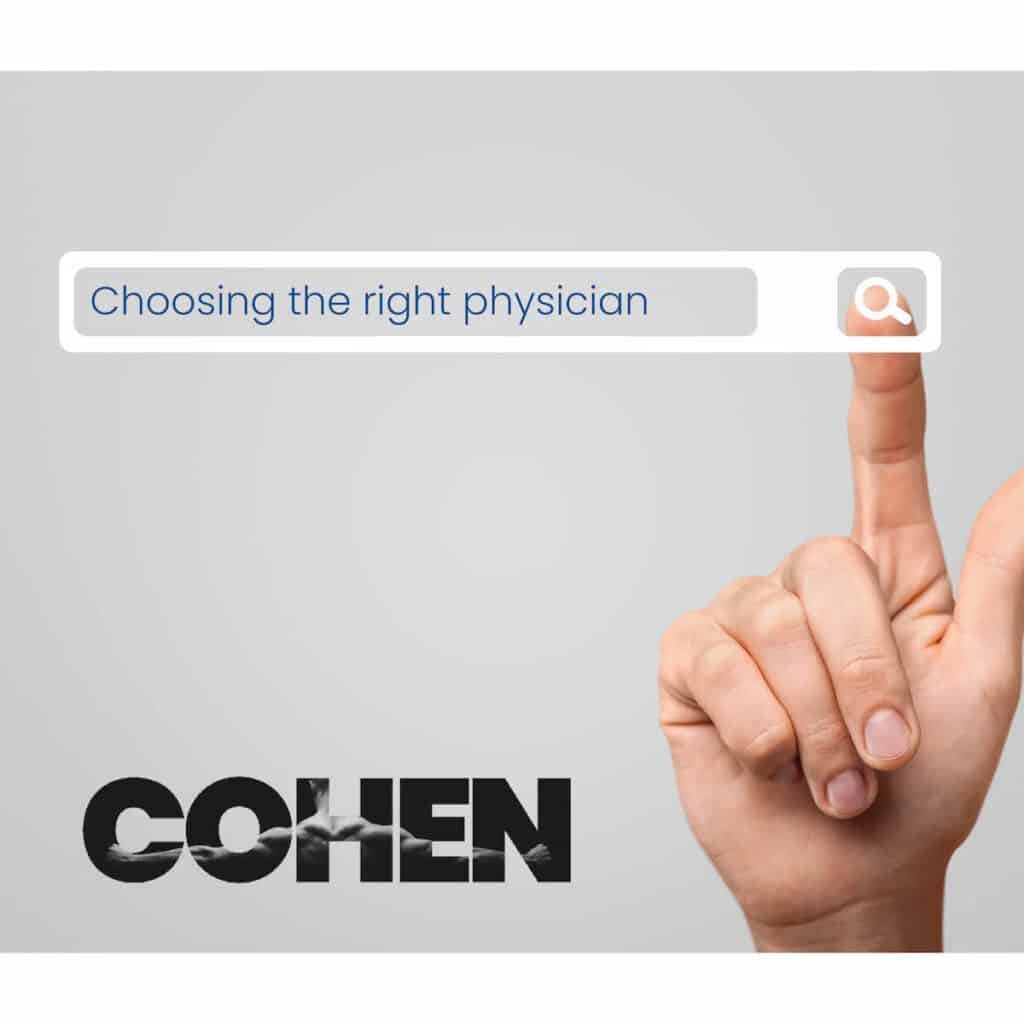 Have you decided it's time to see an orthopedic surgeon? Choosing the right physician for you is important. First, you must determine the factors that are critical to you such as quality, location, honesty, insurance, timeline, and experience of physician. Is it essential for you to have a physician with 10+ years of experience or maybe it's essential that you have a physician that's really close to home. Either way, prioritizing these can help make the decision process a little easier.
Here are a few questions to help get you started on your search:
Is location important to me? For some, transportation may be a barrier, making the location of the physician critical. For others, it may be worth traveling to get the high quality you desire for your treatment.
What type of experience and credentialing does the physician have? A surgeon who has received proper certification in their medical field and country of practice should always be your first choice. It's okay to ask your physician, "Do you have a board certification?".
Do you want a provider that is available after hours and that is personable with your care? Some providers are firmly through the front desk, with strict hours. While others, may be available for a phone call after hours.
Is age and gender of the physician vital to you? It's important for you to be comfortable having an open conversation with your physician. Some may feel more comfortable talking to the same sex or age physician.
What's the timeline or techniques the physician uses? In some cases, procedures can be down different ways. Be sure to ask what approach the physician will be using and why. These techniques can also determine the timeline and recovery process of your procedure.
How are reviews? Ask around. Ask your friends, family, neighbors if they have had an experience with the physician, you are researching or ask who they would recommend. It's nice to hear from someone that has had a similar experience that you're about to encounter. They may have context that you didn't think of or may be able to give you a list of "to-dos" and "not-to-dos". Secondly, check out the physician or institute's website and learn more on their values, beliefs, and patient reviews.
What insurance do they accept? Healthcare costs are not cheap. Be sure to double check that the physician accepts your insurance.
Once you've answered these questions and set your priorities, you will be able to narrow your options down. Orthopedic surgery is a serious matter that does not have room for uncertainty.
Once you schedule your appointment, here are 6 additional questions to ask.
Why do you recommend this procedure?

How much improvement can I expect?

What are the risks?

What's the success rate?

What type of anesthesia will be used?

What can I expect during recovery?
For Cohen Orthopedic, patient, Doug Boyd, his search was relatively easy. Doug's experience started with a referral from his sports medicine physician. Although, you don't always need a referral for Orthopedic Surgeon, Dr. Brian Cohen, having that trust helped limit Doug's search.
"Dr. Cohen was very knowledgeable and was willing to listen to what I was expecting from the surgery. He explained the x-rays, showing what was causing the pain and why it was continuing to get worse overtime," stated Doug. "I feel he did an outstanding job on my knee. I really recovered quickly, with a minimum of medication."
Dr. Brian Cohen has 22+ years of experience in orthopedics. He is the leading, board-certified orthopedic surgeon in central Ohio. Dr. Cohen sees patients in Chillicothe, Columbus, and Grove City.
Patient safety, high quality outcomes and personable communication are priorities at Cohen Orthopedic. To schedule an appointment visit cohenorthopedic.com or call 614-788-0375.