AP Prep Athlete Ben Copher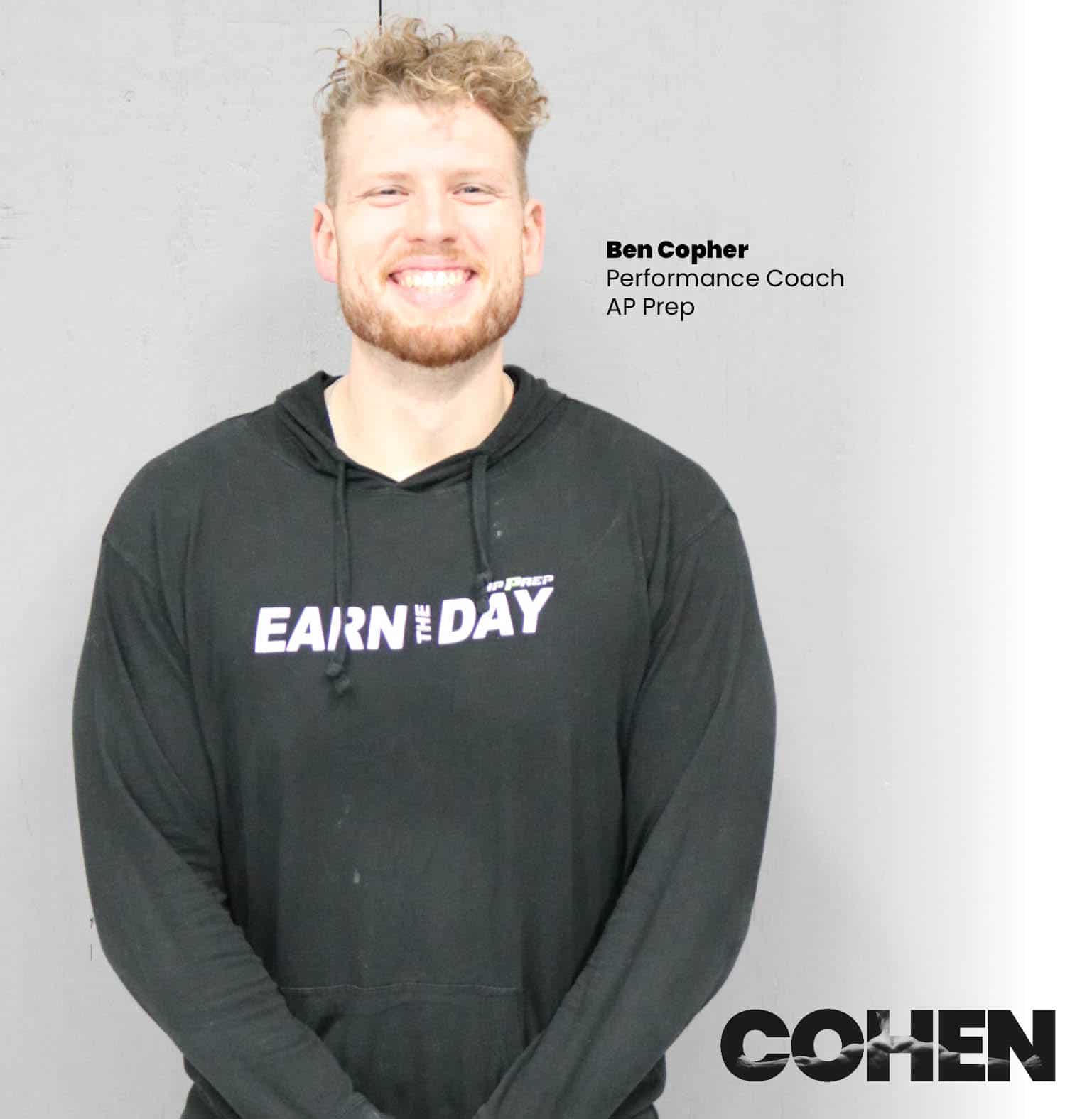 Who is your role model? For some it may be famous athletes like Michael Jordan or Tom Brady. For others it may be famous music artists like Carrie Underwood or Beyonce. For people like Ben Copher, it was just him – and very well assumed. When Ben hit cones, he picked them up and kept moving. And that is just what he coaches today to his student athletes at AP Prep. "I've never really had a job because I was always doing what I loved," Ben stated.
Before you learn a little about AP Prep and what an incredible resource it is for absolutely anyone looking for a "road to more confidence" as Ben put it, let's talk more on Ben and how he got to where he is today.
Ben played football at Valley View Highschool near Dayton, Ohio and had high expectations of joining a division I school on a scholarship to study history and ultimately become a history teacher. But Ben's journey is very similar to most, it didn't go as expected. Ben received a full-ride scholarship to play football at Ohio Dominican University, a division II college in Columbus, Ohio and majored in sports management hoping to become an Athletic Director one day. For his fifth year, Ben minored in coaching.
"I always wanted to be around athletics because it has such a high impact on people's lives. Those that enjoy hard work and training are the people I always gravitated towards."
A lot of us believe that everything happens for a reason. After attending a bowl game in South Carolina, Ben met Jason Prater, AP Prep owner. And a reason, it was. At that point Ben was ready to move up to the next level of football. In January of 2017, Ben started driving from Ohio Dominican College to AP Prep in Chillicothe to train. There he began kickboxing to try to lose weight among taking many other classes.
"I was a completely different athlete after training at AP Prep and I owed it to myself and to the gym to go somewhere and try to play." After playing in France for the Elancourt Templiers for 6 months, I decided I was ready to focus on something else besides football."
However, Ben still had the competitive drive. He decided to up his game in amateur kickboxing. Although football and kickboxing are both competitive, the spotlight is on you when you're in the ring. Everything relies on you and Ben appreciated that. He knew his motivation could get him there. Ben competed in his first amateur kickboxing fight in July of 2022.
Kickboxer is just one of many titles that Ben holds. He is also a fiancé, son, uncle, industrial construction worker and coach. Ben has been a coach at AP Prep since 2016. As I mentioned earlier, according to Ben, AP Prep is the road to more confidence – rather it be mentally, physically, or emotionally, the gym can help you reach your goal. Each performance coach is incredibly talented and determined with the experience to back it up.
One of Ben's biggest accomplishments is one he thinks of often; it's the one where a student athlete was shy, quiet, uncomfortable with his body and really, unsure about attending classes to the point he would only take private ones. Now this athlete is outgoing, strong, confident in his body and attends group classes. It's a real mental testimony, "one that I think of at least 1-2 times a week. He has really inspired me."
Ben's coaching style is "if you are smiling and sweating, we've got the job done. AP Prep welcomes anyone of all athleticisms, levels, and fitness. We all have a common goal and that's to help you become a better person." As most gyms are, AP Prep is a family. However, the ability to build personal relationships and the confidence to talk to anyone outside of "hey how are you" separates AP Prep from other gyms.
In 2022, Ben had the "hey how are you" conversation with Dr. Brian Cohen, Orthopedic Surgeon and Dr. Troy Thompson, Sports Medicine Physician. Although the 'how are you' answer was 'not good, experiencing right knee pain', the experience Ben had was tremendous. Thankfully, no procedure was needed. "Both physicians were very thorough, and smart in their profession. I got a direct answer and that's what I needed," said Ben.
For those of you that have never met Ben, he's a tall guy. The gym and Ben can both come a crossed as intimidating. But like one of my favorite sayings, things aren't always as they seem, Ben Copher is one of the most easy-going guys you will ever meet.
If you are looking to advance your skills to the next level, visit apprep.info. To schedule an appointment with Dr. Brian Cohen at Cohen Orthopedic visit cohenorthopedic.com.