AP Prep Athelete Brandon Kennedy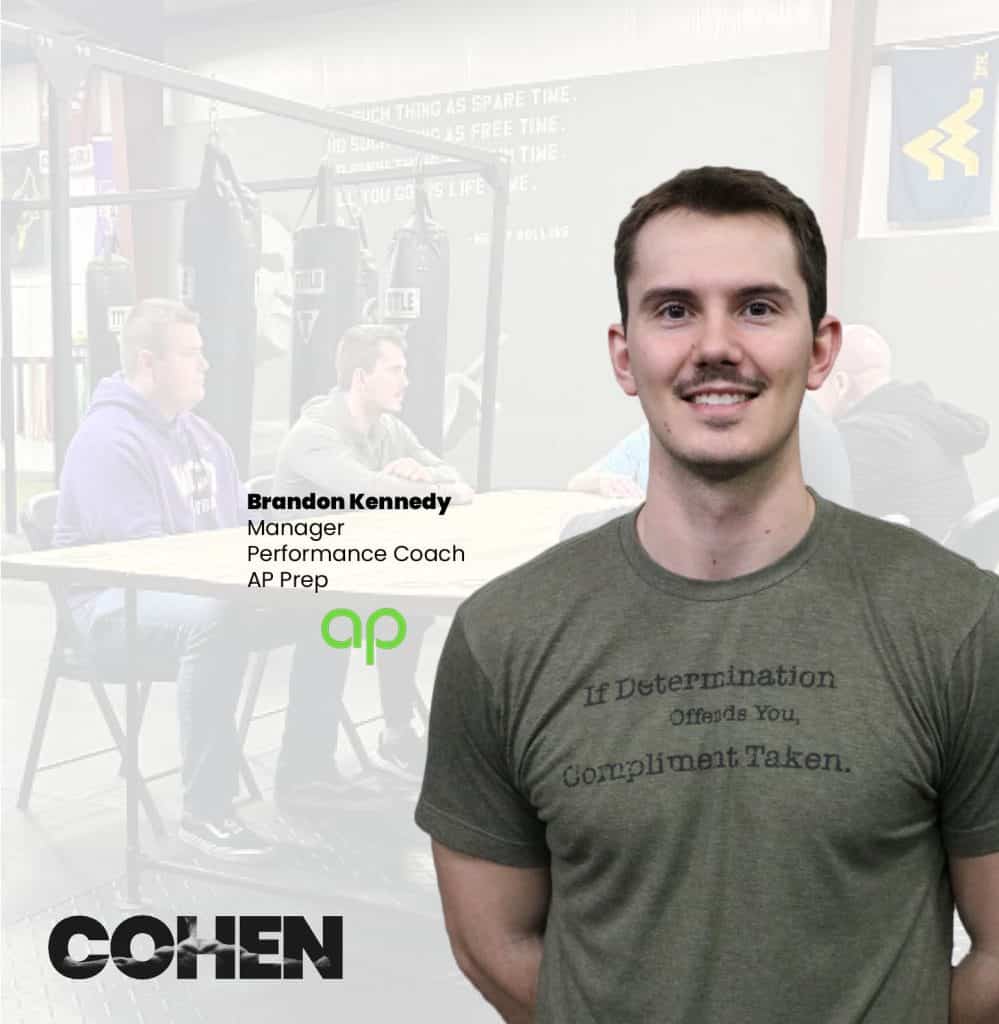 If someone asked you today what your lifetime goal is, what would you say? Knowing that tomorrow could very well be your last day or the start of something special, we could all relate to Brandon's. "To be happy, successful and a part of something for the greater good," said Kennedy.
Brandon is a performance coach and the manager at AP Prep of Chillicothe. He is a relatable guy in multiple aspects, making his job easy and enjoyable. He grew up between here and Norris Lake, attended Unioto Schools, and spent most of his time playing basketball and water sports. Now, he enjoys golfing, boxing conditioning, and mountain biking.
When he was just 12 years old, he had the opportunity to meet Dr. Brian Cohen, Orthopedic Surgeon. Breaking a collarbone isn't the typical way you want to meet someone, but Brandon knew he was in the right hands. "He's great at what he does and is very knowledgeable," stated Kennedy. "Transitioning back to basketball was very smooth, I didn't have any issues playing again once I was cleared," he added.
Brandon transitioned and excelled, earning a top 10 spot on the Ohio High School records for single season three-point percentage and career three-point percentage, breaking the Unioto High School record. Additionally, he earned a full ride scholarship to Concord University, a division II school in Athens, West Virginia.
Brandon continued to excel at Concord University, having over 100 three-pointers for his college career and was the starting shooting guard his sophomore through senior year.
He started training at AP Prep when he was just 14 years old. He fell in love with this piece of basketball and decided to major in something similar. Impressively, Brandon completed a Biology Degree with an emphasis in pre-physical therapy and two minors, sports medicine and psychology.
"Concord was far enough away from home that I wasn't tempted to leave, but it was also close enough for my family to come and watch me play," Kennedy said. "It was a good balance." At just 16 years old, Brandon was diagnosed with type I Diabetes. After learning about his body and readjusting his diet, he had to learn to trust himself. He admitted, if there was one thing he would tell his younger self, it was, "trust yourself in everything you do, trust yourself more than anything."
Being a scholarship athlete meant there were requirements such as meeting a grade point average above 2.5. These weren't a worry for Brandon as he not only excelled on the court, but he also excelled in the books. Brandon hopes to go back to college for his graduate degree in physical therapy but for now "the situation that I'm in is awesome and I love it. I look forward to being creative and enhancing relationships with current athletes."
One thing is for sure, AP Prep is stocked with intelligent, passionate, and energy-full coaches. Brandon mentioned that at the gym, "We will always have energy for our athletes because that's what we do, and we want the most out of them." Most of the coaches at AP Prep have some sort of experience competing at a high level. However, the gym isn't only for those looking to advance their career, some athletes are there to get strong and be healthier.
The gym offers multiple classes of which Brandon has a hand in, including a women and men's boxing conditioning class, youth groups, high school, middle school, and college groups. To learn more about AP Prep visit apprep.info.
Dr. Cohen and Cohen Orthopedic offers same day, next day appointments. Specifically, for those that find their selves in a situation like Brandon, unexpectedly. Call 614-788-0375 or visit cohenorthopedic.com to schedule an appointment.